How to Grow Your Coffee Shop in 2020​
It's no secret that digital has become a crucial part of any business's strategy due to the value and reach that online channels provide. Search engines are the #1 source people use for information on virtually every topic, including where to get their coffee. In fact, nearly 92% of all web traffic comes from Google. By not having a coffee shop digital marketing strategy, you're risking missing out on loads of online traffic that converts to foot traffic in your store.
So, how do you grow your coffee shop's online presence? We'll cover 7 of the most important coffee shop marketing strategies to implement for your coffee shop. These strategies implemented alone can be very effective, and you'll notice significant growth in the area each strategy targets. But when all 7 of these strategies are done together, the impact is magnified and can lead to your coffee shop's online visibility skyrocketing.
1. Well-Designed & Responsive Website​
A business's website is one of its most valuable assets. Your coffee shop's website is often the first impression your potential customers will have of you. You want to make sure that you take care of your website just as you would your actual store. There are many tactics you can use to increase your website's credibility. But two of the most important are making sure your website is well designed and responsive on all devices (computers, tablets, and phones).
How Does Your Website Look?​
A well-designed website says a lot about your brand. It's proven that customers correlate the quality of your website with the quality of your product and your business as a whole. So the question is, what is your current website saying about your coffee shop?
For the best results, you want to make sure that your home page radiates a professional aesthetic that captivates the viewer's interest. You also need to make sure that your coffee shop website design has individual pages (About Us, Contact, etc.) that detail what your company is all about. Most importantly, make sure your website has a menu page that details everything your store has to offer, including all details like prices, sizes, ingredients, etc. After all, most people visiting your website will be there to see what you have to offer.
Another way to improve the quality of your website is to include high-resolution pictures of your coffee and other products or a video tour of your coffee shop. This way, people on your website but haven't yet visited your store can see what you have to offer. From the quality of your products to the atmosphere of your coffee shop, this is one of the best ways to convert web users to customers.
Responsive Website Design​
With a responsive website design, your website (and all of its pages) can adapt and provide the best experience to users, whether they're on their desktop, laptop, tablet, or smartphone. Have you ever visited a website on your phone, and the text is too big, images aren't loading, or links and buttons not working correctly? The chances are you have, and the reason for the website performing that way is simple; it was never optimized to be responsive on devices other than computers. The need to have a responsive website is so critical because of the surging number of users who access websites on their smartphones. In 2020, 63% of all Google searches come from a mobile device. More importantly, over half of mobile users admit to switching to another website after a bad experience on a nonresponsive mobile website.
For an example of a mobile responsive website, copy the address of this webpage and paste it into your phone or computer internet browser, whichever one you're not currently using to read this. Pay close attention to how the website adapts to the device and provides different user experiences that best complement the device being used. You can view some more examples of responsive and engaging websites that I've designed on my portfolio.
2. Optimize Your Google My Business​
First things first, if you haven't claimed a Google My Business (GMB) for your coffee shop yet, do so immediately. I can't stress enough how important this asset is for any business and the benefits of optimizing your GMB. Google My Business is a completely free and easy-to-use tool for your coffee shop to manage your online presence across Google, including Search and Maps. To help customers find your business, and to tell them your story, you can verify your business and edit your information. Besides providing searchers more information about your coffee shop, your GMB also shares the reviews people have left about your shop. Reviews, particularly positive reviews, are used heavily by Google's algorithm when ranking local businesses in Maps. In fact, some of the best real estate to have in search engine results is in the local 3-pack displayed for almost all non-branded searches like "coffee shops in Frederick, MD".
Google's Local 3-Pack​
We'll talk more about the value of local SEO in the next coffee shop marketing strategy, but Google's local 3-pack is a game-changer. When searching for any kind of local business or service Google's search algorithm will display the top 3 results in your area based on the reviews and optimization from your coffee shop's Google My Business. The local 3 pack is so valuable because it displays at the top of the page before any of the organic results. A new study found that searchers click on one of the businesses in the local 3-pack almost 50% of the time.
GMB Optimization​
So, how do you get your coffee shop to appear in the local 3-pack? Ensure all information fields in your GMB are filled out and utilizing the optimal keywords in the coffee shop industry. Keyword research is a great idea here to find out what terms your customers are most often searching for so that your shop has a better chance of appearing as a result. Lastly, and most importantly, 5-star reviews are as good as gold in local SEO. Google uses various ranking factors for local businesses, but none are valued as highly as customer reviews. Be sure to take every opportunity to not only ask for positive reviews from regular customers but also respond to reviews that have already been given. We'll talk more about review generation techniques in one of the next coffee shop marketing strategies.
3. Invest in Local SEO​
Local search engine optimization is a category of SEO that focuses on optimizing a website to be found in the local search results. For coffee shops, local SEO will help you appear for terms like "coffee shop near me" or "coffee shop [city, state]." Essentially, local SEO is an online growth strategy that focuses on emphasizing the optimization efforts of local brick-and-mortar businesses. Need more convincing? Over 50% of 'near me' searches result in a physical store visit. Through content creation, on-page optimizations, and local citations, you can improve your local SEO for your coffee shop.
Top Local SEO Ranking Factors​
Google My Business​
As I mentioned above, your Google My Business is one of your most valuable assets as a business. Google relies heavily on the optimization, information, and reviews on your GMB when its algorithm determines where your website should be ranking for local searches. Google is adding new features to Google My Business all the time, so it's vital to keep your GMB updated as often as possible. A few things in your GMB you can improve right now are adding keywords into your GMB description, listing all services you offer at your coffee shop, enabling GMB messaging, and regularly posting updates or promotions to your GMB. Enhancing these will help strengthen your coffee shop digital marketing strategy and improve your online visibility.
Reviews​
Google has said that "high-quality, positive reviews from your customers will improve your business's visibility and increase the likelihood that a potential customer will visit your location. Encourage customers to leave feedback by creating a link they can click to write reviews." So how do you get more reviews from happy customers? It's as simple as asking. It was found that 67% of consumers that are asked to leave reviews go on to do so. Be sure to incorporate a review generation strategy for your coffee shop.
On-page Signals​
On-page ranking signals come from the content on your website. For example, don't just optimize your website content for "coffee shop" optimize it for "Pennsylvania coffee shop" or wherever you're shop is located. Similarly updating your meta titles and descriptions of your webpages with locational keywords. Using specific keywords in your content and metas is a great combination and can quickly boost your website's rank. Optimizing your coffee shop's website for search engines remains a prime practice and can maximize your performance both organically and locally.
4. Get Listed in Local Directories​
Local citations are online mentions of the name, address, and phone number (also known as NAP) of your coffee shop. Citations typically appear on local business directories, other websites and apps, and social media platforms. Local citations help Internet users to discover local businesses and can also impact local search engine rankings. Local citations also work as a trust signal for Google's algorithm. The more credible citations that your coffee shop is listed on, the more trust Google has in your business and is more likely to recommend your coffee shop to its searchers. Some excellent places to claim local citations and boost your coffee shop's online credibility is Yext, Bing Maps, Facebook, Yellowpages, Foursquare, Angie's List, Yelp, and many more.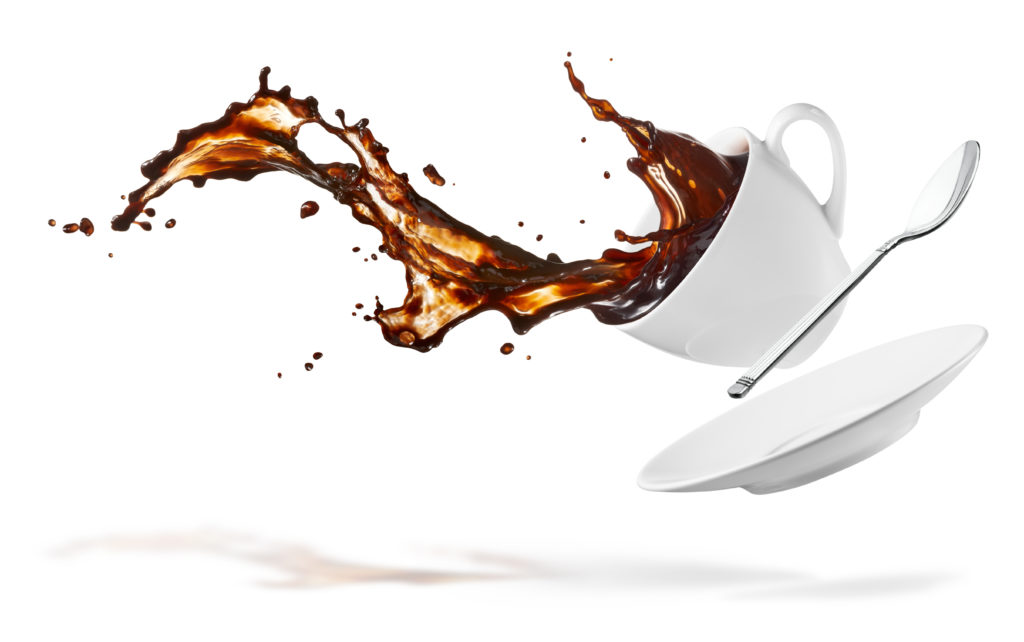 A citation does not need a link back to your coffee shop website for it to valuable. The value in a citation is the mention of your coffee shop online. Google uses these mentions as signals that reward your website with more online credibility. The more mentions of your coffee shop online, the higher your coffee shop appears in the Google search results.
Local citation consistency is also crucial for local SEO performance. Ensure that all citation listings you're filling out for your coffee shop have the same name, address, operating hours, and phone number. Conflicting information online can hurt you when Google is crawling these citation pages and determining where your coffee shop ranks online. Remember, it's all about trust. Having a holistic approach to your local citations and search engine optimization in general is paramount for your coffee shop marketing success.
5. Build a Strong & Interactive Social Media Following​
The importance of social media in business is growing at warp speed with no end in sight. According to a 2019 study, 90.4% of millennials and 77.5% of Gen X are active on social media. Social media is everywhere. For many people, social media is used daily for entertainment, socialization, shopping, and news consumption. Failing to utilize social media platforms to your coffee shop's advantage is a massive opportunity missed. The reach and access social media provide for business owners are next to none. Start forming your social media strategy to build your brand and gain more customers.
Connect With Your Audience​
Social media allows you to connect with fans and followers every time they log in. Did you know, people follow more brands on social media than they do celebrities? In fact, 80% of people on social media follow at least one business. It's imperative to keep your social posts entertaining and informative, and your followers will be glad to see your new content in their feeds, keeping you top of mind, so you're their first stop when they're ready to make a purchase. Be sure to mix in different campaigns to interact and connect with your followers. This can be giveaways for a new shirt or coffee mug with your logo on it or something as simple as a trivia event every Thursday posted to your Instagram stories. Social media users love to engage with brands and admit to being much more likely to buy from a brand that they feel they have a connection with through social media.
6. Run Facebook & Instagram Ads​
Social media advertising is a must if you're looking to reach your target audience immediately. Although search engine optimization is organic and free, success doesn't come overnight. But when you run social media ads, you can automatically reach the potential customers in your area. Captivate your audience with well designed and relatable advertisements that resonate with them. By running ads on the biggest social media platforms in the world, you have the opportunity to build your coffee shop's brand awareness and be the first one people think of when they want a nice cup of coffee. And with the cost of social media ads being so low relative to the number of people you can reach with them, it's a no brainer when adding to your coffee shop digital marketing strategy.
Facebook Ads​
Facebook is still the king of social media, although Instagram has been making up a lot of ground lately. Home to an active user base and a diverse platform, Facebook is an attractive option for advertisers to increase their visibility. The platform continues to grow with a 33% increase in advertisement impressions in 2019. Facebook is a fantastic choice for your coffee shop if you're hoping to increase foot traffic to stores, web traffic to your site, and maximize brand exposure.
Instagram Ads​
Remember, Instagram is all about the visuals. People are looking to follow businesses on Instagram to get a better idea of your brand. 92% of Instagram users say they've followed a brand, clicked on their website, and made a purchase after seeing a product or service on the platform. When running Instagram ads, be sure to share high-quality images or short videos of your coffee products that entice viewers. Instagram has two options for ad placement, ads in the content feed and the stories section. Both are effective and can reach thousands of potential customers instantly.
7. Measure, Measure, Measure!​
The final coffee shop digital marketing strategy is to measure your data and growth as often as possible. I'd highly recommend integrating Google Analytics and Google Search Console on your website; it's not as hard as it sounds. These free to use tools provide valuable information from your website and the users who have visited. Did I mention it's free? Tracking your data not only lets you see the progress your website has made but areas of opportunity that could be improved. You'll be able to know where your coffee shop website is ranking for specific keywords and any increase or decrease in organic traffic to your website.
When measuring the user engagement on your coffee shop website, it's essential to pay close attention to the bounce rate and dwell time of users who visit your site. This is an excellent insight into what visitors think of your website without them actually telling you. A high bounce rate on specific pages indicates that whatever users were hoping to find on that page isn't there. Causing them to bounce from your website to another one, likely a competitor who was able to better answer their question. Be sure to use this information to reexamine your content. Ask yourself, is my website answering visitors' questions? Does it clearly state the coffee shop's operating hours? Is the mission statement clear and worded correctly? Are my menu and prices easily found and accessible? To put it simply, it's all about user intent. Put yourself in your customer's shoes, and be sure to include everything you'd be looking for if it were you.
Ready to Start Growing Your Coffee Shop? Let's Do It Together
I've found my niche in the digital marketing industry by working with coffee shops. I love taking a small town coffee shop and helping turn them into the coffee shop that everyone in town is talking about. The secret is simple, online visibility. By utilizing these steps, I've helped small businesses like coffee shops exceed their own goals and expectations for their business. Having an effective digital presence for your business in 2020 is critical for success. Let's start forming your coffee shop digital marketing strategy today and turn your coffee shop into the #1 in town.