What Is SEO For Family Law Firms?
SEO for family law firms involves techniques, digital marketing strategies, and tactics that help generate more organic traffic and potential clients to a family law firm's website by securing first-page ranking positions on Google for the queries that families seeking legal advice are searching for.
It's clear that Google is the #1 resource for people when looking for legal services. In fact, as of 2022, 93% of people seeking online legal advice used Google to do so. Referrals and word-of-mouth marketing are important, don't get me wrong, but online search almost always dominates the research phase. Another recent study revealed that 74% of people visit a law firm's website with the intention to take action.
How To Improve Your Family Law SEO Strategy: 7 Steps
Many elements of family law SEO have the ability to compound and increase value over time. SEO is an investment, and like any other investment, it takes time to see results. But, implementing a well-thought-out plan that aims to grow your family law SEO strategy, has the potential to magnify your online reach and reel in more family law clients than ever before.
1. Keyword Research
One way to scale SEO for family law firms is by creating content that targets specific niche family law keywords that only your potential clients are searching for. For example, keywords like "divorce attorney", "child custody", and "child support lawyer" are obvious, actually, they're too obvious. And the reality for almost all family law attorneys is that the competition for these keywords doesn't provide a realistic positive return for your SEO strategy. Instead, it's important to seek out more specific and niche keywords with much less competition like "contested divorce vs uncontested divorce", "military divorce attorney", and "grandparents visitation rights".
Focus On Local SEO
When implementing your SEO strategy it's crucial to understand that the proximity or distance of the searcher matters. Google has evolved exponentially over the last 5-10 years and can now better understand the context of each individual search query more than ever. For example, if someone from Philadelphia, PA searches for "Divorce Attorney", Google will display divorce lawyers who reside in Philadelphia, PA, and who have also optimized their websites to target Philadelphia, PA. When it comes to local services, the location and intent of the user's search take precedence over everything else. With the right approach, SEO for family law presents a massive opportunity for smaller law firms looking for ways to compete with the bigger firms.
It's also safe to assume that the competition level in surrounding cities is far less than the competition in major cities like Philadelphia, PA. This presents a realistic opportunity for family law firms looking to rank for terms that their potential clients are searching for. Sure, there are more divorce cases in Philadelphia, but that doesn't mean there's no one searching for a divorce attorney in the smaller surrounding cities like West Chester, PA. Focusing on and targeting surrounding markets is often an incredibly effective family law SEO strategy.
A more refined search returns less search volume, but it also doubles or even triples the quality of the leads that you do capture. This is a strategy my clients and I often put a lot of emphasis on. My clients have seen some incredible results from simply retargeting and focusing on their local SEO strategy. I highly recommend taking a look at your own local market and identifying some of the small to medium-size towns that are under-represented.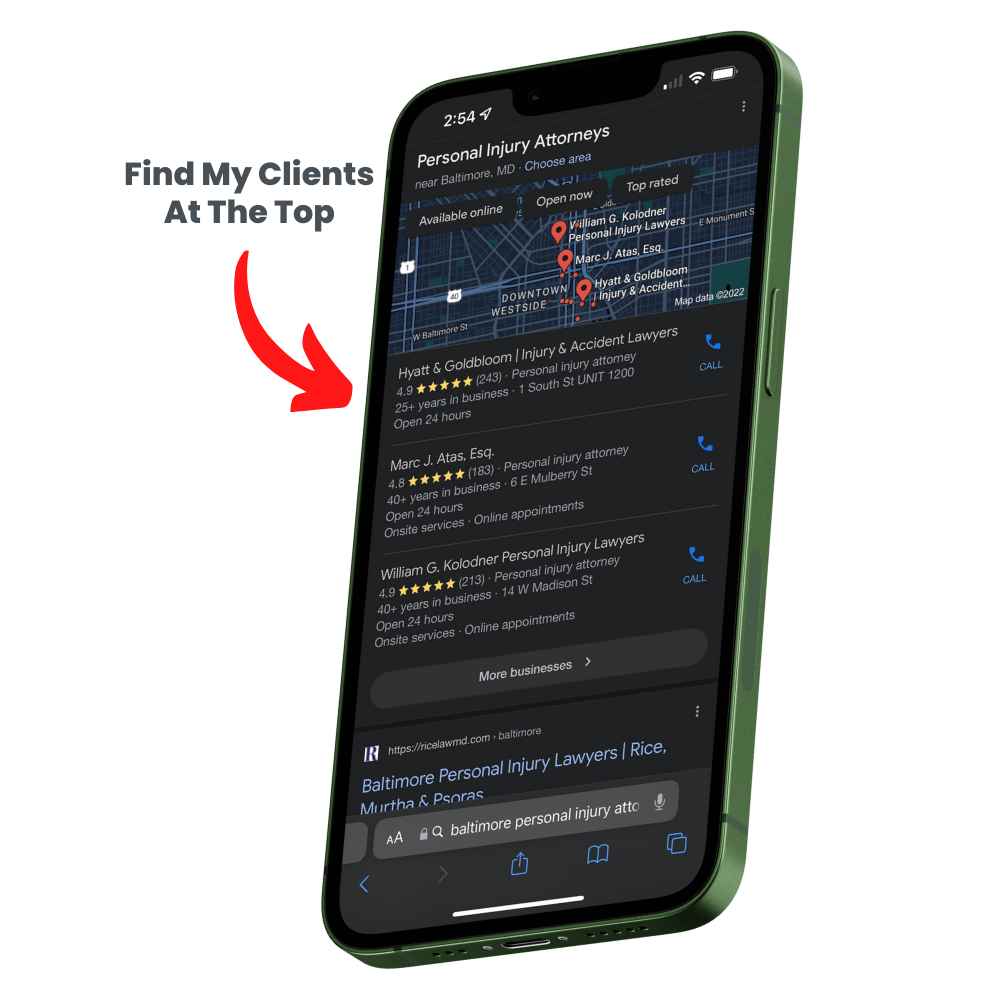 Competitor Keyword Research
It's not enough to know how to expand your legal business in order to get the most out of your SEO plan. You also need to be aware of your competitors' SEO tactics so you can counter them.
How? By conducting competitor research to reveal what your competition is doing, and how you can be better. It's a must-do for family law attorneys and legal marketing executives who want to stay on top of their game while attempting to rank at the top of Google's SERP. A competitor analysis can give you valuable information including:
How much other firms might invest in their attorney SEO efforts,
Which keywords they target, and
How much traffic do those pages get
A competitor analysis can tell you a lot about your competition and how they're outperforming you in the SERPs. It also aids in the identification of your website's strengths and areas for improvement.
2. Optimizing Your Google Business Profile
First things first, if you haven't claimed a Google Business Profile (GBP) for your family law firm, do that immediately. I can't emphasize the importance of this asset enough. A strong and well-optimized GBP can completely transform your practice. Google Business Profile is a completely free and easy-to-use tool for your law firm that helps manage your online presence across Google, including Search and Maps.
Other than providing potential clients with more information about your areas of practice and how you can help them, your GBP also shares the reviews past clients have left about your law firm. Reviews, particularly positive reviews, are used heavily by Google's algorithm when ranking local businesses in Maps. In fact, some of the best real estate to have in search engine results is in the local 3-pack displayed for almost all non-branded searches like "child custody lawyer near me".
Google Local 3-Pack
Google's local 3-pack is a game-changer for your family law SEO strategy. When a potential client is searching for any kind of legal service, Google's search algorithm will display the top 3 local law firms in the area based on the cumulative reviews and optimization from each law firm's Google Business Profile. The local 3 pack is so valuable because it displays at the top of the page before any of the organic results. A new study found that searchers click on one of the businesses in the local 3-pack almost 50% of the time.
So, how do you get your family law firm into the Google local 3-pack? First, ensure all information fields in your GBP are fully filled out and utilize the optimal family law practice areas that you represent. Keyword research is a great idea to find out what terms your potential clients are most often searching for so that your law firm has a better chance of appearing as a result.
Lastly, and most importantly, 5-star reviews are worth their weight in gold when it comes to SEO for family law. Google uses various ranking factors for local businesses, but none are valued as highly as client reviews. It's no secret that clients can base their decision on which family law attorney to use based on others' experiences. Because of this, Google rewards law firms that have a proven track record of success and client satisfaction. Be sure to take every opportunity to not only ask for positive reviews from regular customers but also respond to reviews that have already been given. We'll talk more about review generation techniques in the next tip for family law SEO.
Review Generation Strategy
Google has said that "high-quality, positive reviews from your customers will improve your business's visibility and increase the likelihood that a potential customer will visit your location. Although this is true for all businesses, it's especially true for law firms.
No matter if you're searching for a personal injury, criminal defense, disability, or family law attorney, one commonality you'll see with all of them is that the lawyers with the most 5-star reviews typically occupy the top results on Google maps. That's why it's so necessary to encourage clients to leave feedback about your legal services whenever possible.
So how do you get more reviews from happy clients? It's as simple as asking. It was found that 67% of consumers that are asked to leave reviews go on to do so. Be sure to incorporate a review generation strategy for your law firm. I said it earlier, and I'll say it again, 5-star reviews are worth their weight in gold!
Captivate Your Audience Through Optimized GBP Posts
Keep your potential clients engaged and connected with fresh content posted on a consistent basis to your Business Profile through Google Posts. This is the perfect place to give business updates, current deals, products/services, and events. Creating unique and engaging weekly posts on Google Business Profile will help your business stand out on Google. A recent study found that "82% of people turning to search engines to find local information". Google Posts allow you to engage with searchers directly in search results, the Local Finder, and Maps. SEO for family law firms relies on many different factors, but a highly active and information GBP is one of your biggest online assets.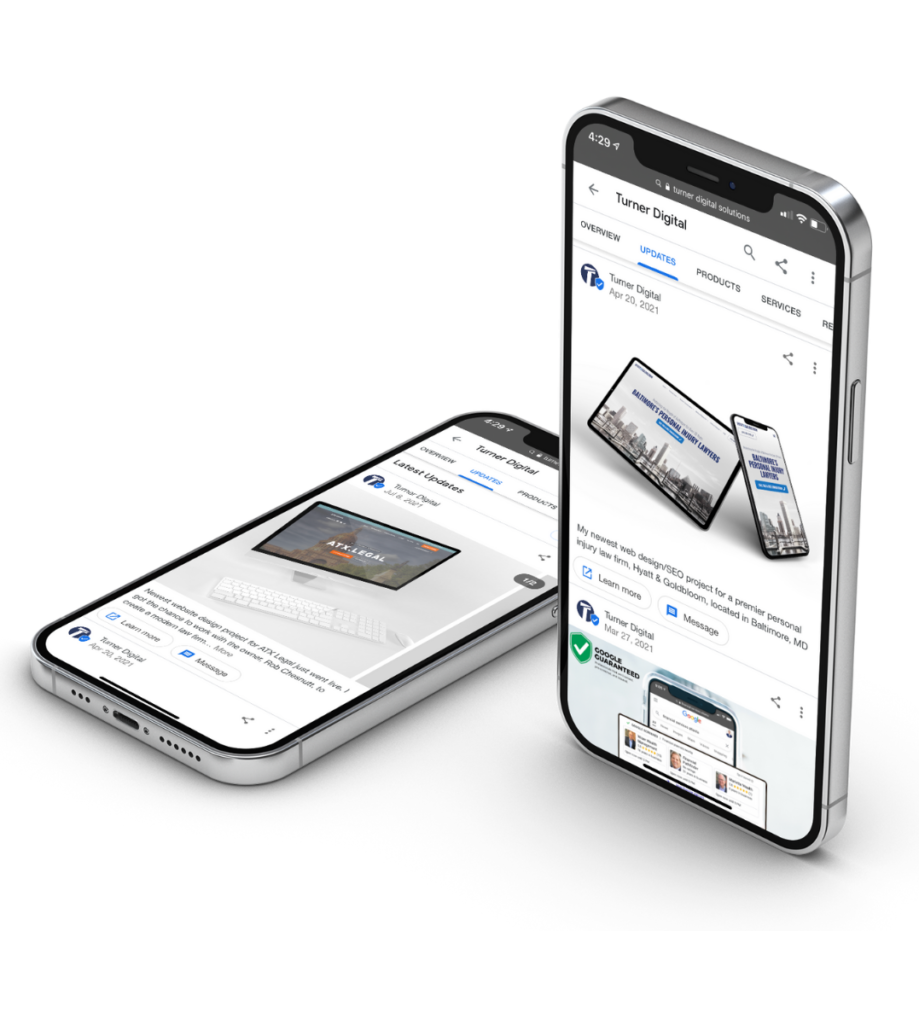 3. Internal Linking
Internal links are to backlinks what Robin is to Batman. They're crucial to SEO success, yet receive little to none of the credit. What are internal links, I hear you ask? They're links from one page on the same domain to another. Every website has them. But what most people don't realize is that—when used strategically—internal links can significantly boost a site's performance in the search engines.
Why Are Internal Links So Important For Family Law SEO?
Google uses internal links to help visitors discover new content on your family law website. Let's assume you create a new practice area page and forget to link it to anything else on your website. If the page has no internal links connected to it, Google won't be aware of its existence and have a very difficult time finding it. Here's what Google says:
Internal links are an important component of a Google-friendly site. They create a more coherent experience for the user, and they ensure that pages on your site cluster together in natural ways. Internal links also help to improve the flow of PageRank around your website. That's quite significant. The greater the number of internal links a page has, generally speaking, the higher its PageRank is. However, it's not simply about quantity; the quality of the links is very important as well.
4. The Importance Of Technical SEO
The goal of technical SEO is to ensure that your family law firm's website meets the technological demands of search engines. Its purpose is to enhance organic search engine rankings. When a search engine crawls, indexes, and renders your website, it collects your pages, runs your code, and analyzes your content in order to comprehend how you divided up your site.
If you have good SEO skills, search engines should be able to crawl, index, and rank your website according to its architecture. In a nutshell, technical SEO is about structuring your website data to boost your search engine ranking, and there are many ways to do so. A technically optimized website provides a superior user experience as well as improved search engine rankings. The following are some factors to bear in mind:
Improve Loading Speed of Your Family Law Website
Your family law firm should load quickly, plain and simple. The typical website loading time is 1.3 seconds, according to a recent study by Dotcom-Tools. Users are irritated by a sluggish website and are likely to go elsewhere. Because they understand they provide a poor user experience, slow websites are automatically demoted by search engines like Google.
Minifying CSS, JavaScript, and HTML (optimize code by removing spaces, commas, and other superfluous characters) as well as compressing pictures can help your site load faster. Because a small error in programming might cause your legal firm's website to cease operating correctly, it's probably better to outsource this technical operation to an SEO company.
Optimize Your Family Law Website For Mobile
When someone is searching for a family law firm, they expect the website that they land on is mobile responsive and easy to navigate on their smartphone. As of 2021, Google predicts that 63% of all organic search traffic in the United States will come from mobile devices. As a result, no family law firm can afford to overlook or undervalue the importance of mobile visitors in SERPs. Many law firm websites are extremely outdated and can benefit from a complete website redesign.
The same SEO for family law principles applies here. Because mobiles have smaller displays and are mostly used in vertical mode, the design and architecture of your website should be considered. We recommend avoiding pop-ups since they don't translate well and using common SEO guidelines.
Schema Markup For Law Firms
Schema is a set of code that allows you to describe your website in a way that has been approved by the search engines, allowing them to provide additional information about your site in an agreed-to format. This enables Google, Bing, and Yahoo to present valuable information directly on the search results pages. Not only does this give visitors important information about your family law firm right away, but schema codes that are properly used can significantly boost click-through rates and SEO for family law firms.
Schema markup is a family law SEO tactic that very few law firms currently utilize. There are many different types of schema markup that can be used on your family law website including local business schema, review schema, article schema, video schema, and more. In my opinion, one of the most effective schema types to use on family law webpages is FAQ schema. This schema allows you to highlight frequently asked questions that people may have about a specific family law topic. Below is an example of one of my clients effectively using FAQ schema on their webpage. You can see how much more real estate their website takes up compared to others on the search results page.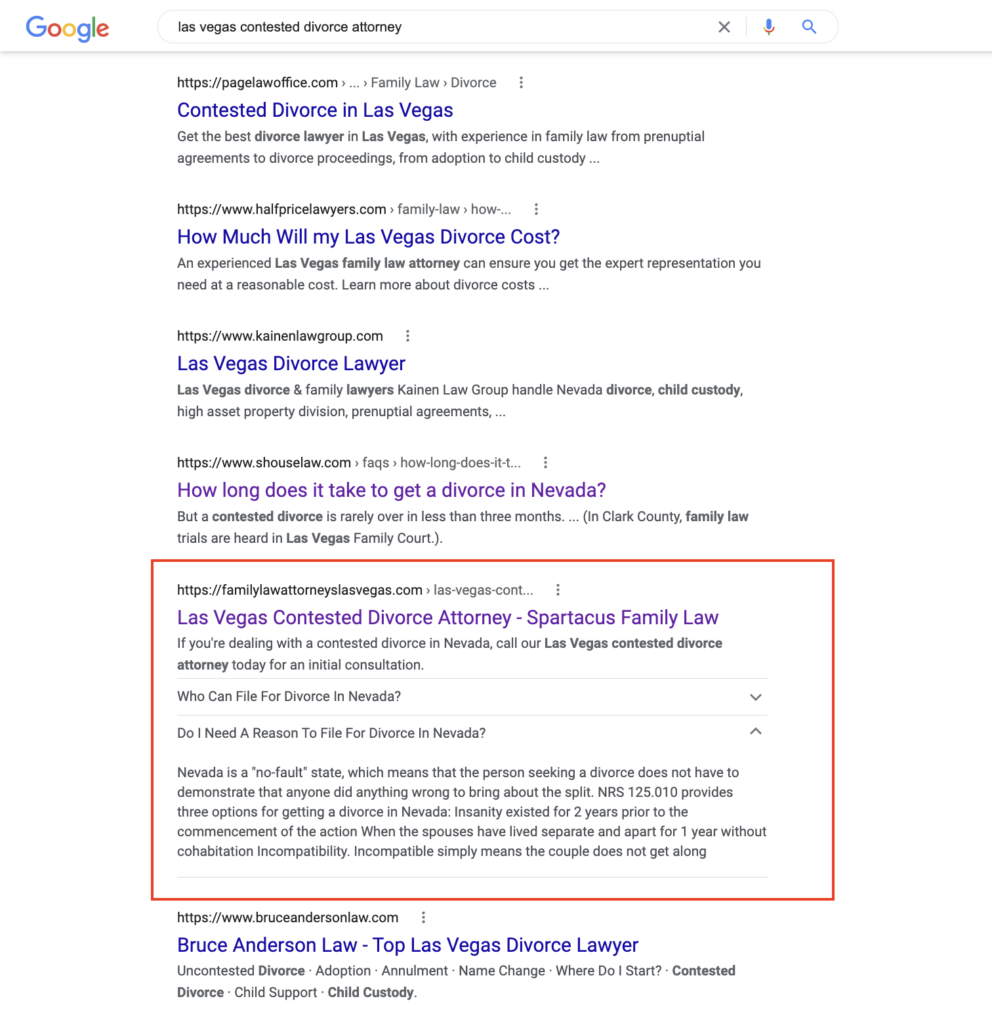 5. Video SEO: The Next Big Thing
What is Video SEO? The objective of video SEO is to improve your video so that it may be discovered and ranked on search engine results pages for relevant keyword searches. There are various optimization methods available to help you increase the likelihood of your videos ranking higher. The importance of video creation cannot be understated.
It's no secret that videos are the most popular mode of media consumption these days. In 2020, 96% of consumers increased their online video consumption, and 9 out of 10 viewers said that they wanted to see more video content from businesses. In fact, as of 2022, the average person is predicted to spend 100 minutes per day watching videos online.
Create Video Content That Educates & Provides Value
If your potential client has doubts about your law firm, you should answer them so that they may educate and empower themselves when making the decision to work with you or not. When you provide value through video content, the search engines see this and start to boost your pages even more. Consider including a Q&A video or an explanation video detailing the differences between contested and uncontested divorce. You can also use video on areas of your website like a blog posts to offer a new way to consume lengthy text. The video at the top of this page is a perfect example of summarizing a long-worded page by highlighting the main areas.
Make Sure Your Thumbnail Image Is Engaging
The video's thumbnail is what the searcher will see when your video is indexed, so it has a significant impact on whether they click. You should consider your thumbnail image in the same way you would a book or website's homepage. It must be interesting, relevant, and overall captivating! Below is an example of a thumbnail I created for one of my clients.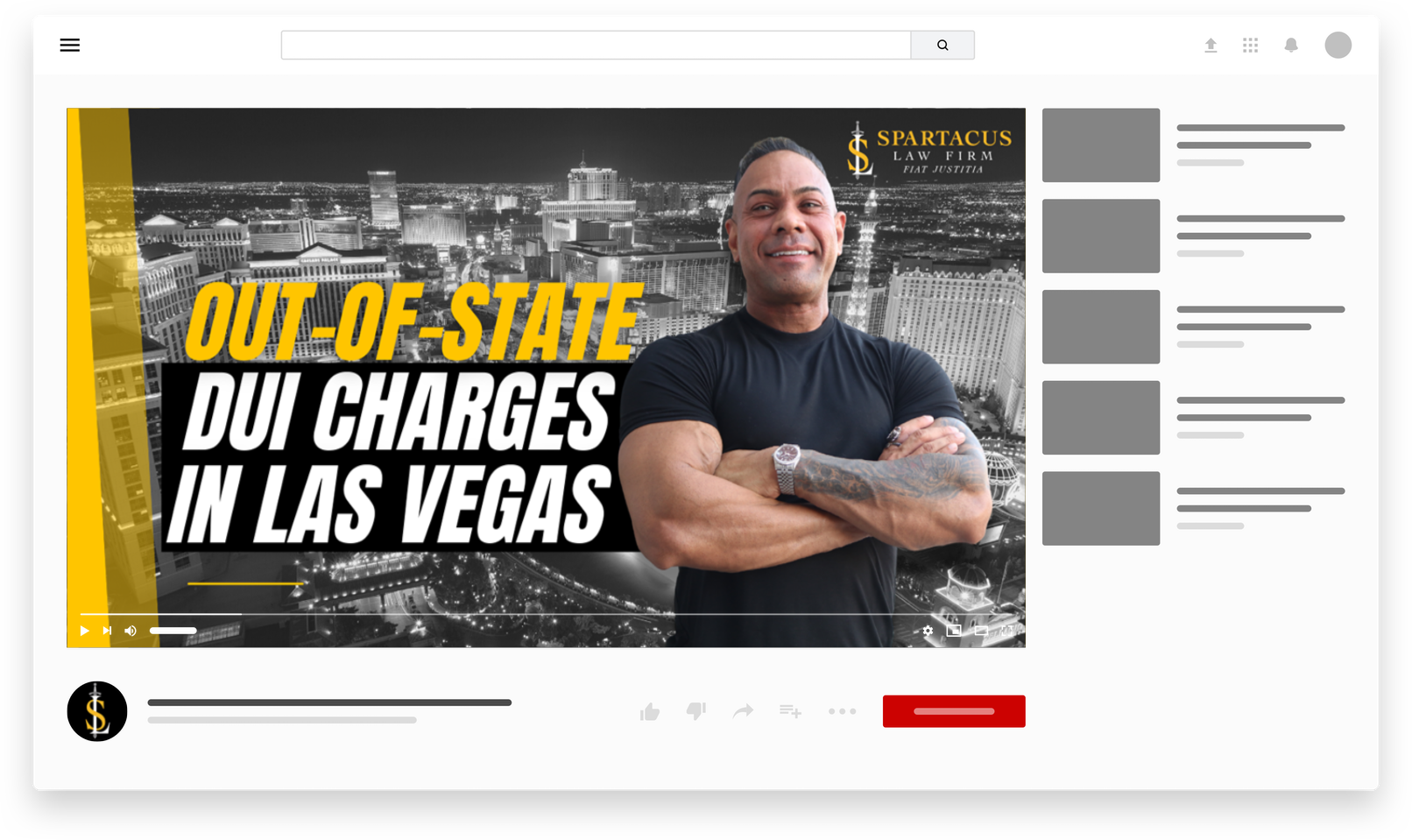 Insert a Video Transcript
You probably see a lot of videos with captions on your Facebook feed while browsing, so you can view them without disturbing others near you. A video transcript is the text that goes along with your video. Video transcripts not only make it easier for more people to view your videos, but they also increase the ability of Google to better understand your video and rank it higher in search results.
6. Leverage Family Law Online Directories
There are generally two types of SEO, on-page SEO and off-page SEO, pretty self-explanatory. One of the main forms of off-page SEO is building links back to your website. Local citations are online mentions of the name, address, and phone number (also known as NAP) of your family law firm. The legal industry offers countless directories for lawyers, all of which help boost your website's expertise, authoritativeness, and trustworthiness (EAT).
Some of the more popular directories include Justia, Super Lawyers, Avvo, Nolo, and FindLaw. However, there are dozens of more legal directories that can help improve your overall credibility. I'm currently working on a comprehensive legal directory list, and I'll be sure to share that with you all once it's complete. If you're interested and would like me to share that list with you, send me a message.
Local citations help Internet users discover local businesses and can also impact local search engine rankings. Local citations also work as a trust signal for Google's algorithm. The more credible citations that your family law firm is listed on, the more trust Google has in your firm and is more likely to recommend your legal services to those searching for it. Some excellent places to claim local citations and boost your law firm's online credibility are Yext, Bing Maps, Facebook, Yellowpages, Foursquare, Angie's List, Yelp, and many more.
Local citation consistency is also crucial for local SEO performance. Ensure that all citation listings you're filling out for your law firm have the same name, address, operating hours, and phone number. Conflicting information online can hurt you when Google is crawling these citation pages and determining where your law firm ranks online. Remember, it's all about trust. Having a holistic approach to your local citations and family law SEO strategy, in general, is critical for your overall success.
7. Measure, Measure, Measure!
There are plenty of things that you can do to improve your SEO for family law. But unless you methodically measure the different SEO campaigns that you're running and the data you're seeing, you may not know what's working and what's not.
One of the biggest problems I see with law firms using these "legal marketing agencies" is the lack of reporting and transparency. The truth about law firm SEO is that many lawyers have been taken advantage of for a long time by these agencies. My advice to you is to gain a general understanding of SEO and the best practices associated with it. Being able to fundamentally understand how to drive traffic to your website will help you tremendously when wading through the bullshit many people will try to sell you.
I also recommend integrating Google Analytics and Google Search Console into your website; it's not as hard as it sounds. These free-to-use tools provide valuable information from your website and the users who have visited. Did I mention it's free? Tracking your data not only lets you see the progress your website has made but areas of opportunity that could be improved. You'll be able to know where your law firm website is ranking for specific keywords and any increase or decrease in organic traffic to your website.
When evaluating the user engagement on your website, look at how long people stay and what percentage of visits result in a bounce. This gives you an excellent snapshot of what visitors think of your site without them having to voice it. A high bounce rate on certain pages indicates that whatever users were looking for wasn't accessible there. Sending them away from your site to another, most likely a competition law firm that was able to provide a more thorough answer. Be sure to use this information to reexamine your content. Ask yourself, is my website answering visitors' questions?
To put it simply, it's all about user intent. Put yourself in your client's shoes, and be sure to include everything you'd be looking for if it were you. Seeking and hiring a lawyer is a huge decision for the average person. Doing everything you can to show your credibility and instill confidence in them that you're the right family law attorney for them is the best way to secure clients.
Boost Your SEO For Family Law Today!
I discovered my specialty in the digital marketing sector by collaborating with family law attorneys. I enjoy assisting families in creating a new future for themselves and helping turn a small-town legal practice into the law firm that everybody in town respects and uses when it comes to family law services. The secret is simple: get your business out there online. By using these family law SEO strategies, I've helped countless lawyers exceed their own goals and expectations for their business. Having a strong online presence for your business in 2022 is required for success. Let's begin developing your SEO for family law strategy right away and make your legal practice the best in town.