351%

Overall Traffic Increase
Hyatt & Goldbloom
Niche: Personal Injury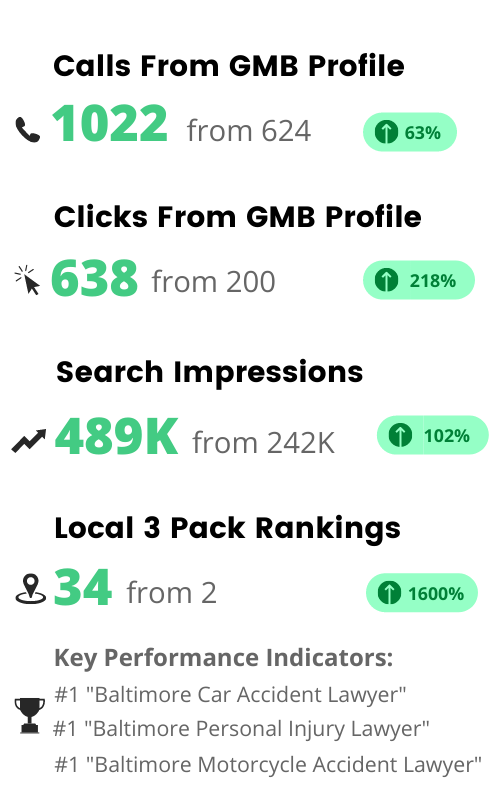 For the past 2 years, we've been working with Heer Law, an intellectual property law firm based in Toronto, Canada.
The aim was to help increase their organic traffic by engaging in a sustainable white hat link building campaign, to help drive very specific customers in Canada, but also to drive more clients and relevant visitors Worldwide in other domicile's like the USA.
We used a ton of different link building strategies, which you can see detailed in our law firm link building guide.
💡 Here's how we set things up for perfection
Complete overhaul of existing content
Analyzed local competitors to identify gaps and opportunities
Created a custom local SEO strategy to focus on key geographic areas to target
Google My Business optimization
FAQ Schema markup deployment
Strategic internal linking and creating content clusters of related content
The Results
Over the last 2 years, we've build links from over 250 domains, using a completely white hat approach. The strategy has yielded incredible improvements in organic search results for Heer Law.
🚀 Increased organic search traffic by 551% in less than 2 years
🏆 Achieved #1 rankings for high value commercial keywords in Canada
#1 Patent Lawyer Toronto
#1 Trademark Lawyer Toronto
#1 IP Lawyer Toronto
🌎 Achieved top rankings for broader terms in the US and beyond
#1 Intellectual Property Value Calculators
#2 Value IP
#2 IP Valuation
Final Word & Mentality
Despite the legal industry being notoriously competitive, it's actually a fantastic industry for link building. Lawyers are seen as very intelligent and knowledgeable members of society, how often have you heard the phrase "this is not professional legal advice" or "I recommend you seek legal advice".
We can therefore leverage our expert knowledge to add value to any relevant website, and that mindset has served us very well for this project. It's allowed us to earn links from entrepreneurial websites that perhaps need some legal opinion, or business blogs that need insight from a lawyer on a particular subject.